"Faith" Bear (2004)
00008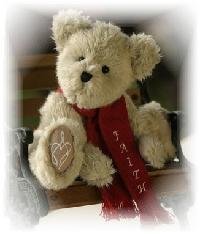 Hello!
My name is "Faith."
I am a personalized Boyds Bear created for the Hunter's Hope Foundation.
"Now Faith is being sure of what we Hope for and certain of what we do not see." ~ Hebrews 11:1
I am a special addition to the Hunter's Hope Bear Collection. It is my prayer that you too will believe in the Hope that children's lives will be saved. Even though we can not see a cure for Krabbe and other Leukodystrophies, we are certain there is one.
Please take me home and tell your friends about me, so that they can also have Faith. If you hope me close to your heart, you too can be sure of what you Hope for and certain of what you do not see.
Collectible, Limited Edition:10" Tall
Autographed by Jim Kelly
Yes (for an additional $50 donation) (50)