"Love Endures" Bear (2005)
00007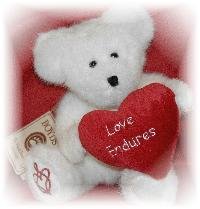 Hello!
My name is "Love."
I am a personalized Boyds Bear created for the Hunter's Hope Foundation. I was made right before Hunter Kelly went to heaven on August 5th, 2005. Hunter's family was so sad to see him leave them, but they are so very happy too, because they know they will see him again in Heaven. They believe in God's promise that Love endures forever.
"Love always protects, always trusts, always hopes, always perseveres." ~ 1 Corinthians 13:7
I am Love, and I will always have Hope and Trust that God's Love for all His children will Endure forever. Therefore, I endure.
Please take me home and invite God's Love into your heart, so that you may Endure too.
Collectible, Limited Edition:10" Tall
Autographed by Jim Kelly
Yes (for an additional $50 donation) (50)