"Tears" Bear (2006)
00009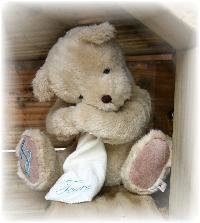 Hello!
My name is "Tears."
I am a personalized Boyds Bear created for the Hunter's Hope Foundation.

I want to remind you that it is okay to cry. Did you know that? I am shedding tears because I miss my special friend Hunter Kelly so much. Hunter went to Heaven August 5th, 2008. I know that because of God's love Hunter and so many other special children are in Heaven, running and laughing and singing songs of joy. And, this makes me sing for joy too.

Please take me home and when you are sad, hold me close to your heart, and with God's love in your heart, you will sing songs of joy too.
"Those who sow in Tears will reap with songs of joy." ~ Psalm 126:5
Collectible, Limited Edition:13" Tall
Autographed by Jim Kelly
Yes (for an additional $50 donation) (50)